Two American-Made Apparel Manufacturers Come Together
"We are excited about this opportunity to combine two long-time brands; leveraging more than 130 years of experience in American-Made apparel manufacturing."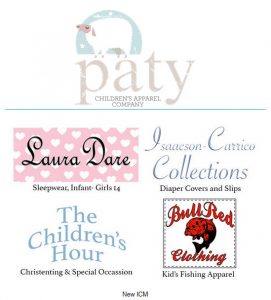 HOUSTON, TX (PRWEB) June 15, 2017
Paty, Inc. would like to announce the acquisition of long-time apparel manufacturer, New ICM, LP, of El Campo, Texas. New ICM, originally founded in 1948, specializes in the manufacture and distribution of popular brands such as, Laura Dare Sleepwear, IC Collections, BullRed Fishing Apparel, The Children's Hour, and IC Workwear. New ICM will continue to operate out of its fully integrated 60,000 sq ft manufacturing facility, complete with an accredited CPSC testing lab. Paty, Inc. CEO, Derrick Veillon, states, "We are excited about this opportunity to combine two long-time brands, leveraging more than 130 years of experience in American-Made apparel manufacturing."
Paty Children's Apparel and New ICM brands are available at fine children's boutiques and large retailers across the country. To learn more visit: http://www.patyinc.com or http://www.newicm.com
About Paty, Inc.
Paty Inc. is a Houston based children's apparel manufacturing company. A leader in the infant apparel industry, they are renowned for handmade baby gowns, layettes, and newborn sets. Paty, Inc. is a family owned business that prides itself on providing outstanding service and high-quality products.
Beginning this week, all New ICM brands will be on display at the Dallas Gift Market and available for order in their new location right next door to the Paty showroom.  Both the Paty showroom and New ICM room will be staffed to write orders and will be also be stocked with cash and carry items for immediate delivery!
The New ICM brands will still be available at The Stokes showroom in Atlanta for the upcoming Gift Show in July.
If you'd like to set an appointment, please call 713-688-7686.  Or when your schedule permits, just stop by for a visit!